Page reload / [Making Life Multiplanetary / See invisible motion]
---
7 OCT 2017


Old but gold! TED talk about a pretty cool video-processing tool to visualize micro-motions/sound. A musst-see!- talk by Michael Rubinstein
---
7 OCT 2017
Elon Musk's talk at the International Astronautical Congress (IAC) 2017 in Adelaide (Australia) about colonizing the Mars. - 'Making Life Multiplanetary'
---
14 SEP 2017
Explanation of the CO2 and temperature coupling in the pre- and post-industrial age. - NASA Goddard
---
14 SEP 2017
Five-Year Global Temperature Anomalies from 1880 to 2016 (compared to the mid-20th century mean). It shows a clear increase of the global temperature anomaly during the last few decades. Full article by NASA Scientific Visualization Studio
---
14 SEP 2017
Pretty nice setup to visualize tiny perturbations in the air.
'Seeing the Invisible: Schlieren Imaging in SLOW MOTION' - By Veritasium
---
14 SEP 2017
How Much of the Earth Can You See at Once? - By Vsauce
---
25 AUG 2017
NASA's EPIC View of 2017 Eclipse Across America (NASA Goddard).
---
25 AUG 2017
Pretty good explanation of the information paradoxon/Holographic principle by 'Kurzgesagt - In a nutshell'.
---
25 AUG 2017
The reason why the sun is slowing down over time: Poynting Robertson effect explained by Sciencium/Vertasium.
---
06 JAN 2017
First post of 2017, with a true highlight of 2016. The discovery of graviational waves explained by Prof R. Adhikari and Vertasium. Official paper pdf.
---
11 DEC 2016
Happy Birthday fox21.at!
---
11 DEC 2016
This is how rotation works!
---
11 FEB 2016


The discovery of gravity waves! The beginning of a new era: "...a hard-fought breakthrough marks the beginning of an entirely new race, rather than the finish line"
---
11 FEB 2016


Signs of a 9th planet?
---
11 FEB 2016

This is how card tricks work!
---
15 JAN 2016
Links page update!
---
08 JAN 2016


Playing with simple contour plots! The original image (Messier 101) from Wikipedia has been modified by a Gaussian Blur (Gimp: Filters > Blur > Gaussian Blur with r = 4 px) and Colorify (Gimp: Colors > Colorify) effect to avoid a spill-over of contour lines. The image is then imported to python with the PIL module to create a contour plot. The background shows the original image in grayscale (L mode). Python code.
---
---
06 JAN 2016

#2 Two colliding neutron stars form a black hole. These aren't normal stars like our sun. The collision of main sequence stars would neither form a black hole nor a supernova! The corresponding mass threshold for neutron stars to form a BH is called the Tolman-Oppenheimer-Volkoff limit.
---
06 JAN 2016


#1 Black holes do not suck everything in!
---
05 JAN 2016
First snow in Vienna!
---
05 JAN 2016



Weather warning by ZAMG and Meteoalarm
---
30 DEC 2015
Geomagnetic Disturbance Alert 30/31 Dec 2015
---
30 DEC 2015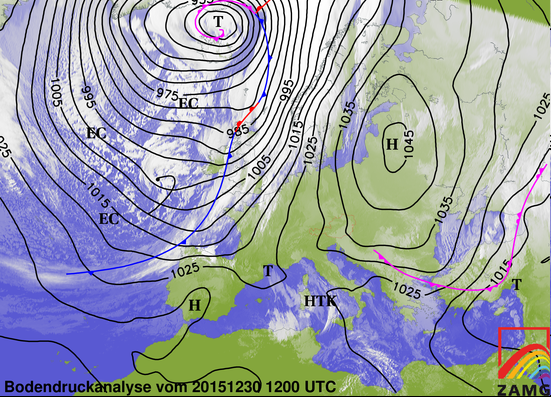 ---
30 DEC 2015

---
30 DEC 2015